Connect With Us On YEWTOPIA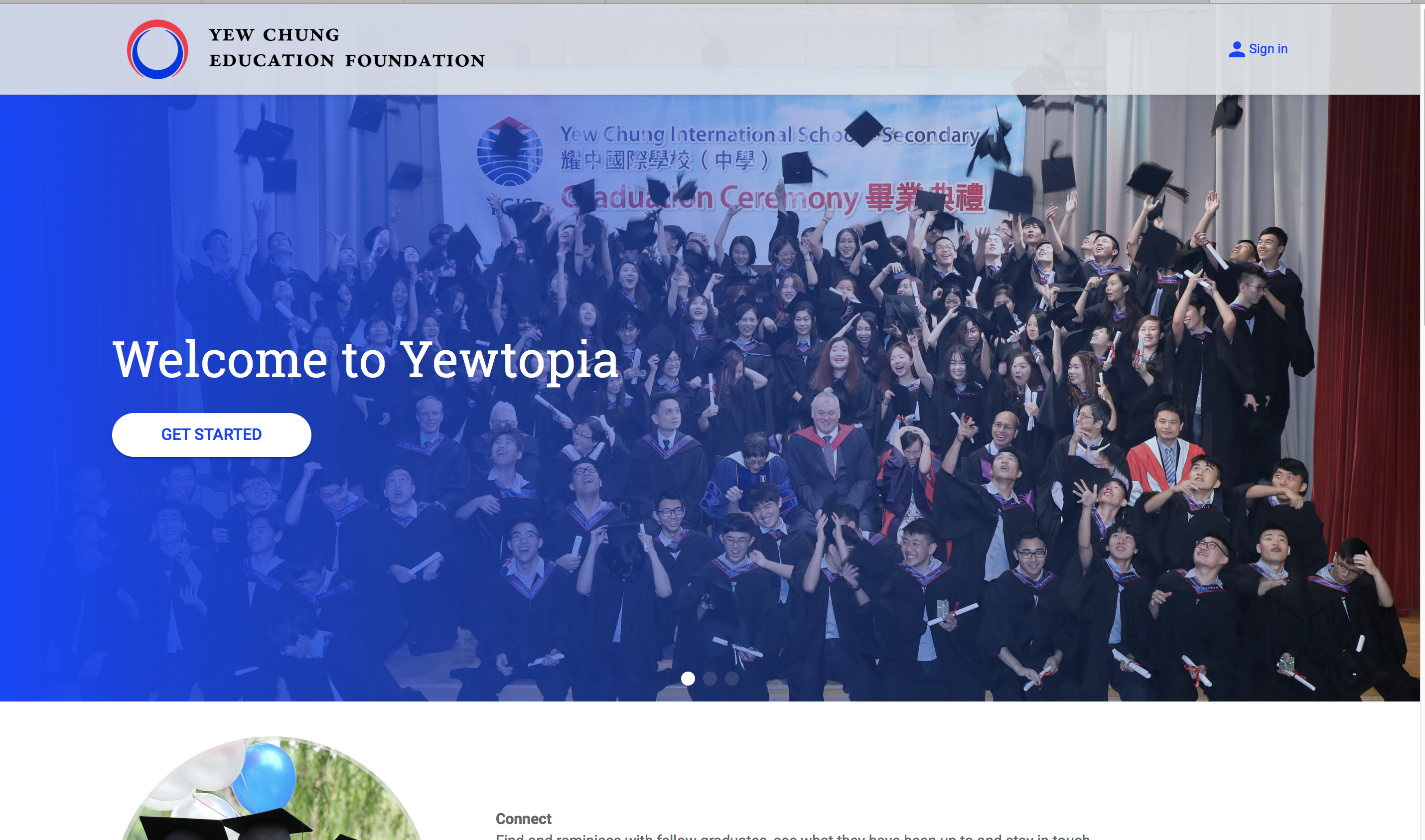 YEWTOPIA is an interactive platform which allows alumni to connect with their friends and teachers, search for or serve as a mentor, post or apply for a job and receive firsthand news and information about the school and global alumni community. We welcome alumni of YCIS, YWIES and YCCC/YCCECE to join us on this platform. Register to enjoy the opportunity to build your own personal and professional network, and receive our e-newsletter regularly.
You can view more in our FAQ section
Volunteering
The Development and Alumni Relations Office warmly welcomes passionate and dedicated volunteers. There are many ways to give back to the Yewtopia community!
1.   Join alumni leadership
Do you want to lead and serve your fellow Yewtopians? Join our Alumni Advisory Board (for YCIS/YWIES alumni) or Leadership Council (for YCCC/YCCECE alumni) to build a strong Yewtopia network across the globe.
2.   Become a Mentor
Do you want to positively impact another person's life? Join the alumni e-mentorship programme and share your experiences with young alumni and students. You can simply sign up as a mentor on YEWTOPIA, and match up with mentees in need.
3.   Be an Industry Advisor
Do you want to share your industry/professional expertise? At any stage in your career, in whatever industry or profession, you can always be a valuable source of inspiration and motivation for our young alumni and current students. Come share your unique insights and advice at our career events, and consider offering internship opportunities!
4.   Volunteer in our Schools and College (YCIS/YWIES/YCCECE)
Do you want to give back to your School or College in other ways? All our campuses appreciate alumni volunteering your time and talents, whether supporting students in their learning, contributing to Open Days or University/Career Fairs or any other kinds of service.
Drop us an email at secretariat@alumni.ycef.com and we'll explore all volunteering possibilities!
Update Your Yewtopia Profile
Remember to stay in touch with us on Yewtopia by simply updating your profile whenever necessary.
Parent Network
As a parent, you are a vital part of our Yew Chung and Yew Wah community, even after your child has graduated from our schools. We invite you to play an integral role in our community by participating in our activities and events, and connect with fellow parents, alumni, students, and friends.Be connected! Be engaged! Be informed! Register on our network and receive the latest news of the community!
Make a Gift
Alumni contribution is an invaluable gift supporting the emerging needs of our schools in delivering high quality programmes. Be a proud supporter of our current and future Yewtopians by offering your gift today. Your gift will help bring impactful teaching and learning experiences to the students in the years to come.
Make a Gift