YCYW Virtual Alumni Week 2021 RSVP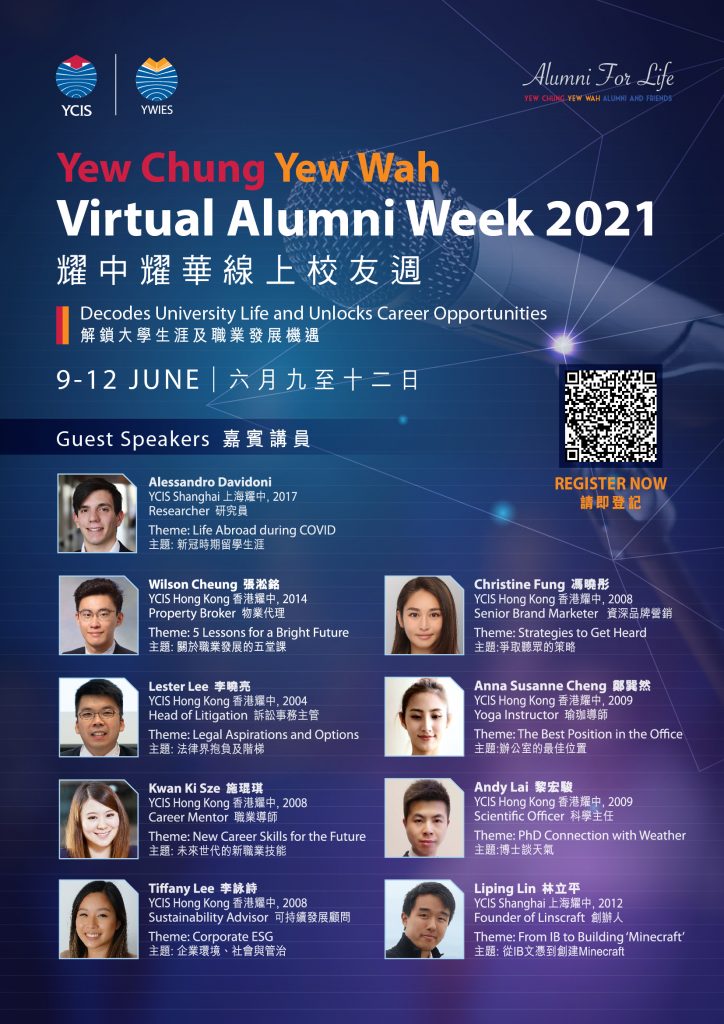 Riding on last year's success, the Institutional Advancement Office brings back the annual alumni event as Yew Chung Yew Wah Virtual Alumni Week 2021 during 9–12 June! We have gathered some of our most professional and qualified alumni around the world to share with you their first-hand experience in university and career.
Wednesday, 9 June, 4.30-5.15pm
"Life Abroad during COVID"
Mr Alessandro Davidoni, YCIS Shanghai Class of 2017
For any international student, the process of adapting to university life far from home can be an overwhelming experience. The uncertainties wrought by the pandemic have made it even more daunting. Yet the basics of survival are simple, Alessandro feels. Maintaining a healthy lifestyle and keeping an eye on your mental wellbeing will positively impact your academic results. Alessandro shares his first-hand experience in winning friends at university (some virtually) and maintaining and growing relationships with friends and family back at home.
Additional credentials:
Bachelor of Commerce, University of British Columbia (Major areas: OBHR and International Business)
Researcher, Odgers Berndtson
President cum Co-Founder, AMS Italian Student Association, UBC
Provide consulting services for IntraWorlds, a leader in talent relations cloud-based software
Wednesday, 9 June, 5.30-6.15pm
"5 Lessons for a Bright Future"
Mr Wilson Cheung, YCIS Hong Kong Class of 2014
From problem-solving start-ups to property, it has been quite a journey for Wilson. A University of Hong Kong graduate with a Bachelor of Business Administration degree, he is an international residential property broker with CBRE, a world-renowned real estate company. Apart from his time at New World Development Group, he was an earlier co-founder of Mealingful, an award-winning start-up that provides specialised meal delivery services to the elderly and patients with dysphagia (a condition that makes it difficult to swallow). Wilson will share his insights into career growth and innovative experiments with students offering them pointers for their own path to the future.
Additional credentials:
Diverse experience in social innovation, start-up incubation, business development, marketing and event planning
Assistant, Executive Office, New World China Land Ltd.
Thursday, 10 June, 4.30-5.15pm
"Legal Aspirations and Options"
Mr Lester Lee, YCIS Hong Kong Class of 2004
Lester is the Head of the Legal Division (Litigation) at the Competition Commission (Hong Kong). He oversees all enforcement action that comes before the Competition Tribunal and subsequent appeals. Competition law is a relatively new field in Hong Kong. To make it all accessible, Lester is going to share the basics of his profession and explain how – when presented with many different pathways to law – he chose this particular area. From barrister to regulatory work, Lester will offer insights and advice across the spectrum for those pursuing a legal career.
Additional credentials:
Master's degree, Law - The University of Hong Kong
Thursday, 10 June, 5.30-6.15pm
"New Career Skills for the Future"
Ms Kwan Ki Sze, YCIS Hong Kong Class of 2008
The twin shocks of the pandemic and the economic downturn over 2020 have impacted the careers of millions. It has also accelerated the arrival of the 'new age' of work. Kwan Ki is a member of the International Coaching Federation. She has completed an introductory Psychology course with University of Oxford (Department for Continuing Education). With her 10 years of corporate experience in professional services, Kwan Ki has coached many young adults on career and life topics. She will share insights into the emerging skill sets required over the next five years as work and corporate lifestyles are recalibrated.
Additional credentials:
Peer Coach, International Coach Academy – for professionals, first time leaders, department heads, regional heads for improving work performances and personal wellbeing
Career Mentor, focusing on university-to-workplace transition topics
Friday, 11 June, 4.30-5.15pm
"Corporate ESG"
Ms Tiffany Lee, YCIS Hong Kong Class of 2008
In 2018, with a passion to explore environmental and social issues impacting our planet, Tiffany decided to pursue a master's degree in Corporate Environmental Governance at The University of Hong Kong. Upon completing her degree, she swiftly focused her attention on helping companies on all stages of their sustainability journey. She has since advised clients on sustainability strategy development and implementation, in particular bringing her expertise in data analytics to sustainability issues by advising corporates on how to leverage their environmental, social, and governance (ESG) data during various stages of growth.
Additional credentials:
Sustainability Advisor, The Purpose Business
Bachelor of Communications, University of Southern California, Los Angeles
Friday, 11 June, 5.30-6.15pm
"Strategies to Get Heard"
Ms Christine Fung, YCIS Hong Kong Class of 2008
Have you ever realised that you as well as billion-dollar multinational corporations are fellow travellers on the very same online platforms? With the world at our fingertips and becoming smaller every day, everyone has seemingly become a 'marketer' of some stripe or the other. With 10 years in marketing, Christine has some unique perspectives to share on the phenomenon of social media outreach and communication strategies.
Additional credentials:
Senior Marketing and Communications Manager, InspiringHK Sports Foundation
Brand and Marketing Manager, Nike Hong Kong and Shanghai
Saturday, 12 June, 1.00-1.45pm
"The Best Position at the Office"
Ms Anna Susanne Cheng, YCIS Hong Kong Class of 2009
Yoga is what enabled Anna to finally get a good night's sleep. After learning a short 10-minute meditation process, there was no more tossing and turning. Since then, she has become a dedicated practitioner of this art and has encouraged friends and people around her to develop their own practice. Yoga has brought with it a sense of positive introspection and it continues to teach Anna how to be a warrior rather than a worrier.  A practical session with her will teach you how to practise yoga at your own work desk amidst your daily stresses and strains, be it big projects or exams. Whether you are a student or a professional, you won't want to miss this opportunity to understand the secret to relieving stress.
Additional credentials:
Full-time registered yoga instructor
Kids yoga instructor
Pre & post-natal yoga instructor
Saturday, 12 June, 2.15-3.00pm
"PhD Connection with Weather"
Dr Andy Lai, YCIS Hong Kong Class of 2009
Andy is currently working as a Scientific Officer for the Hong Kong Observatory forecasting section with the High Impact Weather Team under the Forecasting & Warning Services Branch. He is responsible for bringing together local weather forecasts and issuing weather warnings. In this session, Andy will share his experiences as a PhD student and how he graduated to weather specialist.
Additional credentials:
PhD in Climate Science, University of Cambridge
Fellowship, Royal Meteorological Society
Saturday, 12 June, 3.30-4.15pm
"From IB to Building 'Minecraft'"
Mr Liping Lin, YCIS Shanghai Class of 2012
Liping founded a game design company and later worked closely with Microsoft on its educational and successful 'Minecraft' game. This partnership has enabled his business to work with talented individuals to build shared masterpieces for players across the world. As CEO of a new and growing business, Liping will share how IBDP and higher education have equipped him with the knowledge and skills to excel in a dynamic and constantly evolving field.
Additional credentials:
Founded LinsCraft, a start-up, in partnership with Microsoft on 'Minecraft'
Bachelor's degree in International Business, Pepperdine University
Register now to get the links to join the webinars. Simply complete the form via this link to register. Don't miss out your chance to be inspired by our talented alumni, and make use of the valuable resources from the YCYW alumni community!