ABOUT CHERI
The Chor Hang Educational Research Institute (CHERI) was founded in 2016 as a member of the YCEF. Established in the spirit and honour of our founder, Madam Tsang Chor Hang, CHERI is dedicated to furthering the philosophy and objectives of the Foundation by fostering a culture of innovation, collaboration and professional growth. We are grateful to the many friends and colleagues who serve on our inaugural advisory board, and who are collaborating with us on research.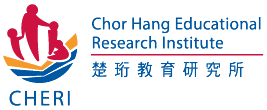 CURRICULUM
How do curriculum and culture work together to nurture globally competent and responsible citizens? How does curriculum facilitate 21st century learning approaches? These are just some of the questions that CHERI explores, consistently enhancing teaching practices and continuous improvement of curriculum for all schools across the network.
PROFESSIONAL GROWTH
Through specialised professional development programmes, CHERI also provides opportunities for Yew Chung and Yew Wah teachers and leaders to enhance their capacity, enabling them to be the best educators they can be.
INNOVATION
Innovation sits at the heart of YCEF and CHERI seeks to engage in applied and scholarly educational research, both in-house and in collaboration with world-class experts and institutions. All teachers are encouraged to submit research proposals that explore their own areas of interest, generating new ideas that could be shared across our schools and with the global community of educators.
INAUGURAL ADVISORY BOARD
Professor Susan Fowler (Department of Special Education, University of Illinois at Urbana-Champaign)
Professor Mary Hayden (Department of Education, University of Bath)
Professor Fazal Rizvi (Graduate School of Education, University of Melbourne)
Professor Beverly Shaklee (Center for International Education, George Mason University)
Professor Shi Ping
Professor Iram Siraj (Department of Education, University of Oxford; Early Start
Research Institute, University of Wollongong)
Professor Kathy Sylva (Department of Education, University of Oxford)
Professor Jeff Thompson (Department of Education, University of Bath)
Professor Xiao Xiang-Ning
RESEARCH COLLABORATORS
Dr Stephanie Sanders-Smith, Yew Chung – Bernard Spodek Scholar in Early Childhood Education (College of Education, University of Illinois at Urbana-Champaign)
Dr Bonnie Yim, Dr Louise Paatsch, and Dr Natalie Robertson (Faculty of Arts and Education, Deakin University)
Dr Ming-Shiang Chuu Ni (Graduate Institute of Early Childhood Education, National Chengchi University)