From Yoga to Tech, Law and Weather, Alumni Week a Buffet of Inspiration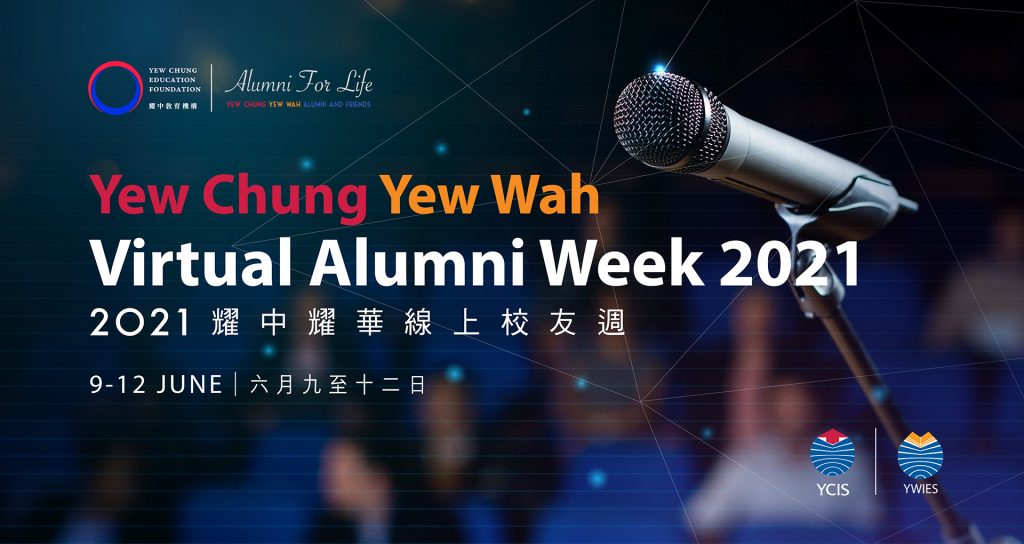 From culture shock, to mentorship, yoga and the weather, the YCYW Virtual Alumni Week, held 9–12 June, was a smorgasbord of ideas, stories and inspiration. The event, attended by 130 participants over nine sessions, was a big success and greatly enjoyed by students, parents and staff.
Kicking off the event was Alessandro Davidoni. After the initial culture shock, international student Ale mastered ways to overcome his transition challenges. But he remained true to himself. Skills that he developed during his IB studies at YCIS helped him stay on track.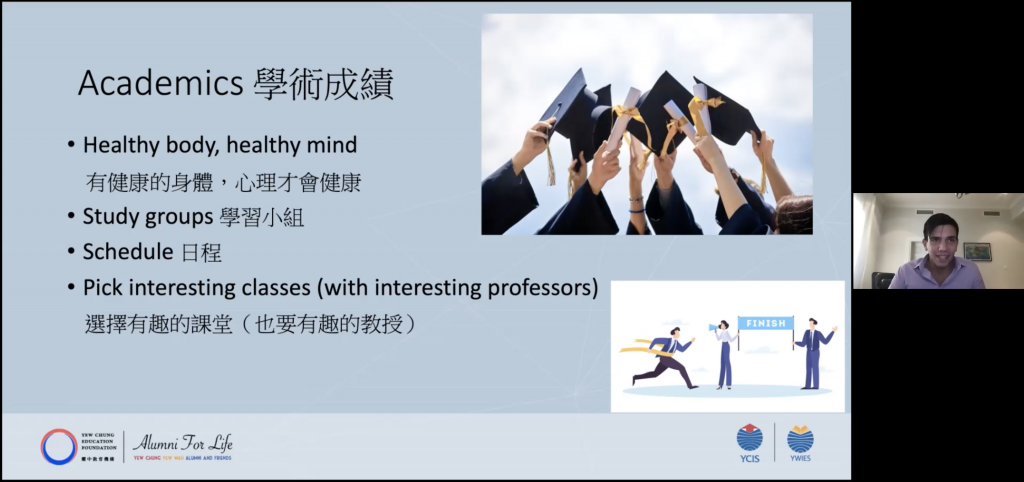 Over the course of several jobs, the unassuming and humble Wilson Cheung developed his 'five rules' for a brighter future: stay curious, be disciplined, manage your emotions, give freely to inspire others, and remain confident in your abilities. Wilson shared his experience of lifelong learning, demonstrating clearly how he is contributing to the world.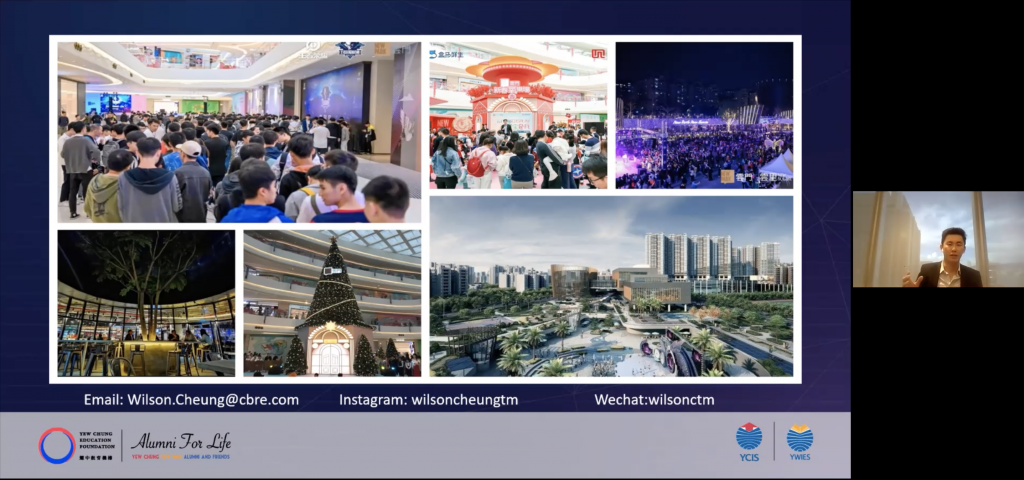 For lawyers, the ability to critically analyse the 'whys' and 'whats' is the key to success. Lester Lee reckons that any person who is curious and enjoys hearing both sides of an argument, could likely opt for a legal career path. But, most importantly, you should learn how to be a good person first. This is the key to success in this profession.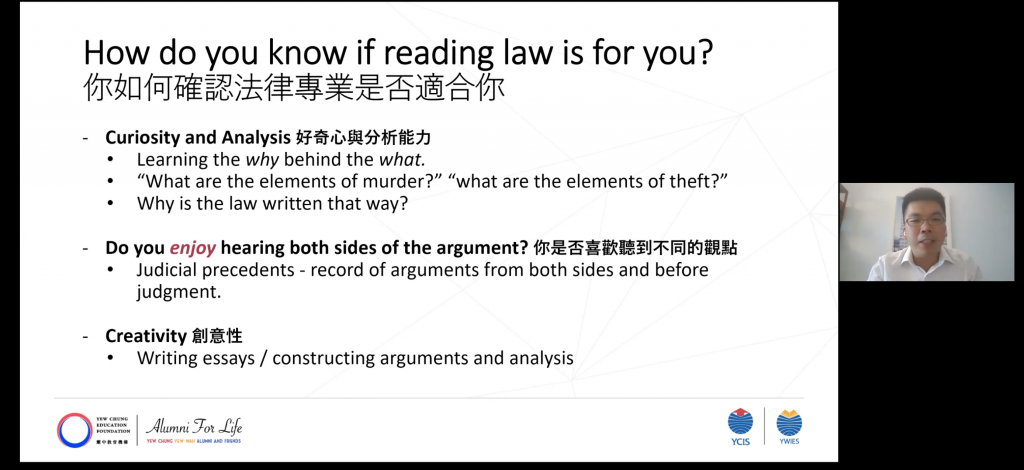 As a career mentor, Sze Kwan-ki has helped many young adults thrive and grow. In the post-COVID era, many companies will be looking for employees with new skills that can help expand their business in a fast-changing world. People skills and the ability to adapt to technology are now important tools to help overcome the challenges of working remotely. Whether you are a student or a young professional, you should look for skills that will help you succeed in the new ways of working.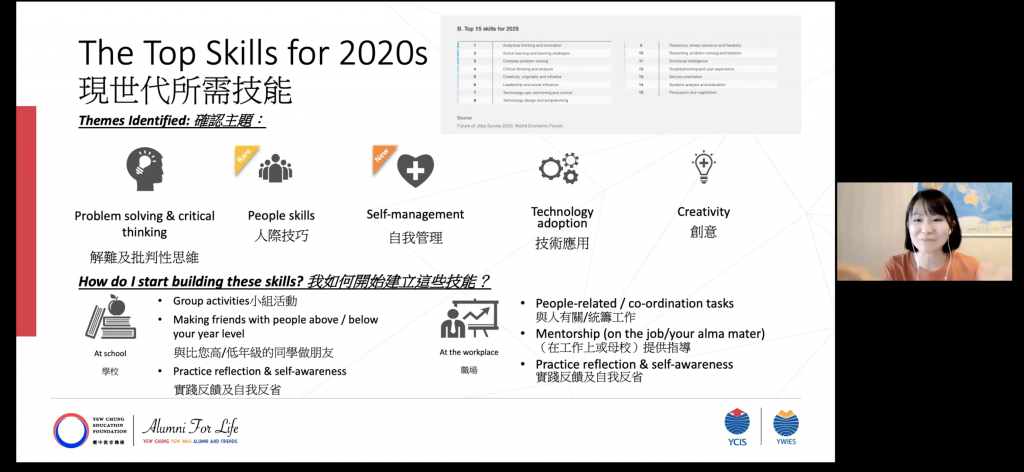 Midway through the week, Tiffany Lee shared her insights on environmental sustainability – a topic everyone on this planet should get familiar with. There are plenty of ways that both corporations and individuals can contribute to a healthy environment, such as consuming only as much as you need, decreasing beef consumption, purchasing locally, and so on. Digital and electronic waste that we create is another important issue. A small change in our behaviour can make a big difference to help sustain the environment for the next generation.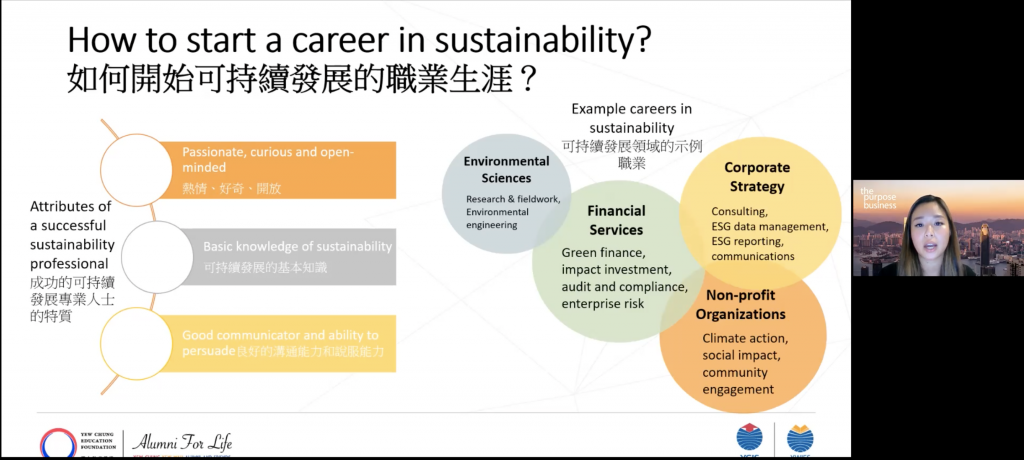 Christine Fung has been working in the marketing field for a number of years. As social media has become increasingly accessible, many now strive to become key opinion leaders (KOL) or influencers on different online channels. However, being a marketer is more than just saying what you have on your mind. Having a clear purpose and a creative approach is the key.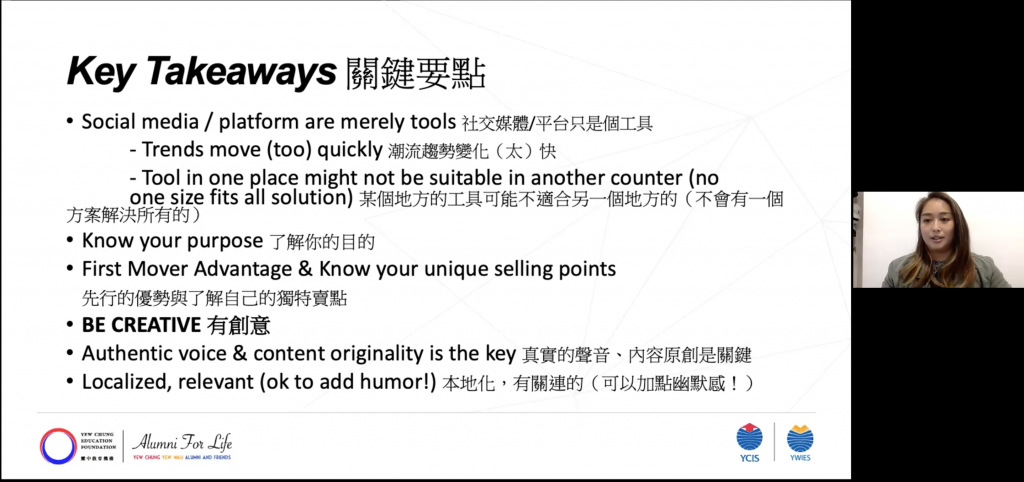 Closing the series, we had three intriguing topics introduced by Anna Cheng, Andy Lai and Li Liping. Anna is a yoga instructor. She demonstrated a variety of postures that can help you relax while working at a desk. Fancy that! Health and work, combined. Remember to always listen to your body so that you can have a healthy and balanced life.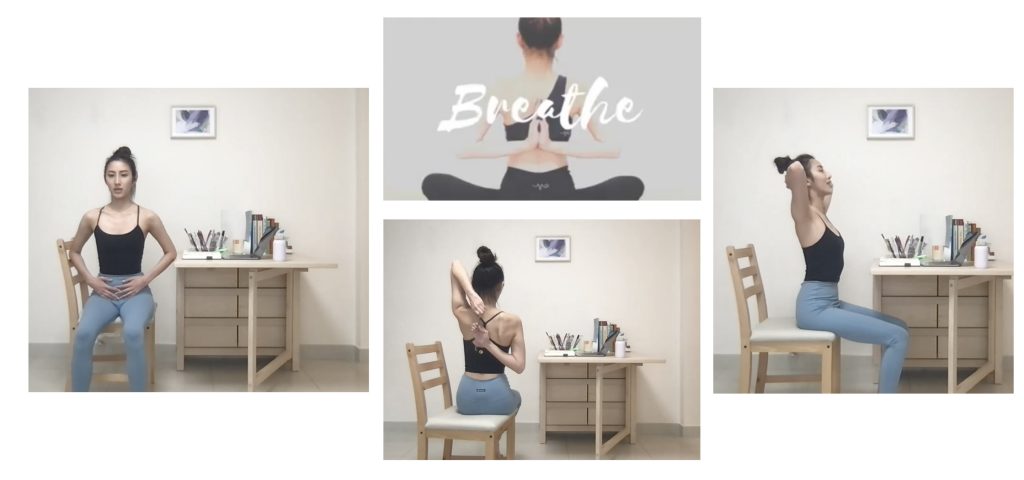 The Hong Kong Observatory issued the standby signal No.1 the night before Andy Lai's session. As it turned out, our very own weatherman Andy was on duty helping manage the signal changes as a storm front approached. Studying abroad to obtain his PhD degree, Andy worked hard to pursue his passion for meteorology, finally becoming a weather specialist.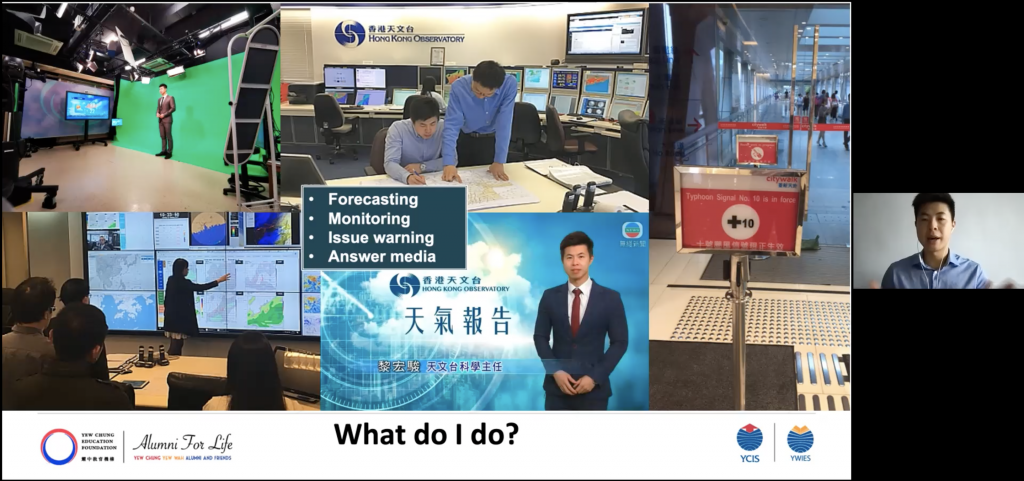 Last but not least, Li Liping from Shanghai shared his experience in launching a start-up in the rapidly developing online gaming industry. This business requires several skills and Liping was fortunate enough to have acquired some of these during his IB courses at YCIS. He picked up the ability to think critically, accounting and communication knowledge, as well as business skills. Crucially, he developed the ability to understand – and take – risks. After all, start-ups are a risky proposition. And he learnt to manage his time effectively, an important ingredient in achieving life goals.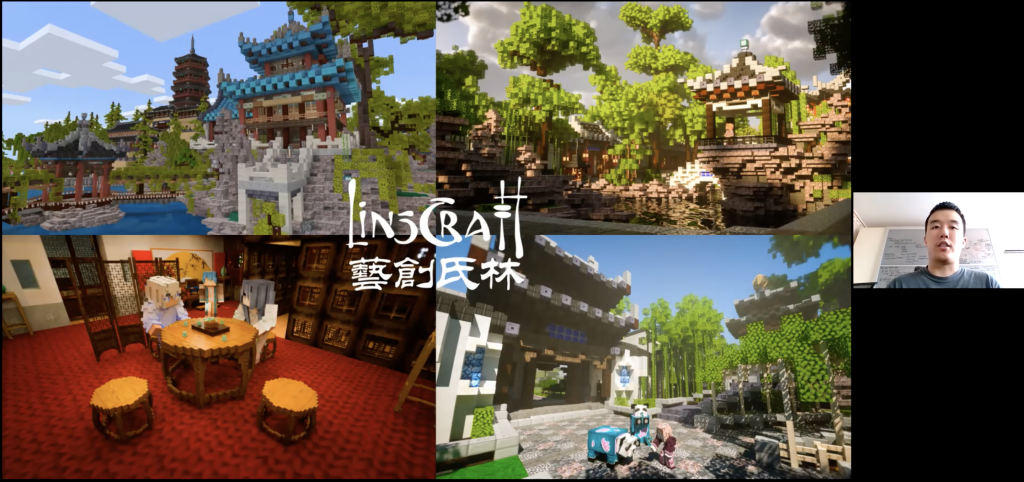 Over nearly 90 years of educational development, innovation and excellence, YCYW has nurtured numerous alumni who have devoted themselves not just to careers, but in passionately giving back to society. Their unique and inspiring experiences continue to encourage our community. Thanks again to all our speakers.
We hope to see you all again at our exciting alumni engagements. If you would like to learn more, please contact us at secretariat@alumni.ycef.com.