Alumni Hall of Fame 2021 – Call for Nominations!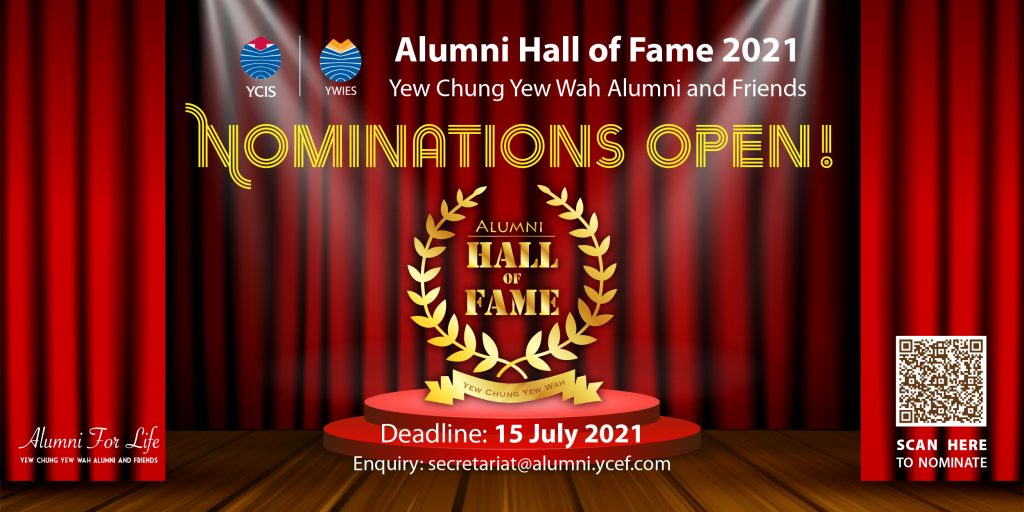 As educators we are proud to see our alumni thriving and it is our honour to publicly recognise the contributions you have made to the community and to celebrate your achievements in life.
The Alumni Hall of Fame was launched in 2020 with three young inaugural inductees – Chelsea Chen (YWIES Shanghai Gubei, Class of 2015), a talented film maker; Aaron Shea (YCIS Hong Kong, Class of 1998), a passionate mentor to the youngsters of the YCYW community; and Mika Ulmet (YCIS Shanghai Puxi, Class of 2010), a selfless volunteer in the developing world. These three have demonstrated the true values of the enduring Yew Chung and Yew Wah spirit – the embodiment of ethical, caring and loving global stewardship.
Do you know other alumni who display standout qualities in their lives and work?  Submit your nomination today and let's celebrate the wonderful achievements of our YCYW alumni.
Nomination form: https://forms.office.com/r/KeW6anpenH
Criteria for Selection
Professional Achievements and Recognition
Outstanding achievements in his/her chosen profession or other area of endeavour
Recognition and awards for his/her contribution
Demonstration of leadership and influence within his/her field
(Global or Local) Community Services
Involved in voluntary leadership roles in the community or through humanitarian groups
Significant community service and contributions that have had a positive impact on society
Support to the YCYW Community
Supported YCYW initiatives through philanthropy
Involved in voluntary services to support the development of YCYW schools and the alumni community
Seen as an advocate of YCYW schools
Additional Information
Any other information that does not fit in the category above such as personal successes, charismatic leadership, or character
Nomination Procedures
YCIS/YWIES alumnus or alumnae who have graduated/left the school at least five years ago are eligible for nomination – we define YCIS/YWIES alumni as those who studied with us at YCIS/YWIES for over one year.
Nominees may be suggested by:

The Selection Committee
An alumnus or alumnae of YCIS/YWIES
Current or former YCIS/YWIES staff
A member of the school community

Submit one nomination form for each nominee. A nominator may submit more than one nomination.
Complete the nomination form and submit online by 15 July 2021 for your candidate to be considered for induction before Founder's Day. All details must be filled out accurately.